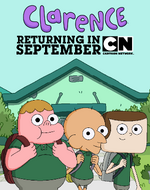 Season 4 is the show's fourth season of Clarence. The series shortly concluded in 2018. However, it is given a revival on September 16, 2019. The number of episodes of the season are 13, making it the first season to have a short number of episodes. Its first episode is "Clarence's Universe", a half-hour crossover with Steven Universe that released on September 30, 2019.
Production
Edit
Premise and characters
Edit
Sumo and Jeff will become the main characters the revival, and appear in all 13 episodes in the season and on. Amy Gillis will return in the season premiere and become a supporting character in later episodes. In the season finale, both Clarence and Jeff get transferred to West Aberdale to reunite with Sumo.
Clarence will be voiced by Skyler Page since his previous 34 episodes from Season 1. He will also provide the voice of Chad in the season and onward. Amy will also be recast from Ava Acres to Ariel Winter. Nathan's voice actor Damien D. Haas will be replaced by Spencer Rothbell (voice of Clarence as of 2015-2018).
Animation
Edit
Saerom Animation will no longer provide the animation for the series, as South Korean animation studio Sugarcube will provide the animation for the series' fourth season and following ones.
Episode list
Edit
No. in series

Title
Synopsis
Release
Prod. code
1
"Principal Reese"
Mr. Reese takes the job as principal after the old principal quit.
September 9, 2019 (CN App)
September 16, 2018 (Television)
401
2
"Mr. & Ms. Wendle-Caswell"
Mary thinks about being re-married, which scares Chad.
September 23, 2018
402
3
"Clarence's Universe"
Chad brings the family and friends on a vacation where they accidentally end up in Beach City, where they get greeted by friendly Greg Universe, who welcomes them to his town. Introducing them to the Crystal Gems and others, Clarence and Steven instantly become friends for their common interest; Sadie introduces Amy to music; and Chad and Greg work together to get the van fixed.
September 30, 2019
403
4
"Jeff the Lady Killer"
Jeff becomes a "chick-magnet" after taking advice from Sumo.
December 16, 2019 (CN App)
January 6, 2020 (Television)
404
5
"Brother Breehn"
Breehn gets a younger brother after her mother became pregnant.
December 30, 2019 (CN App)
January 13, 2020 (Television)
405
6
"A Day Without Clarence"
Jeff and Sumo pass the time for Clarence to come back.
January 20, 2020
406
7
"Bye, Bye, Nerdy"
Amy gets her eyes checked and has to wear glasses, later making her a laughing stock at school.
February 3, 2020
407
8
"The New Know-It-All"
After Jeff fails the spelling bee, Clarence becomes the new smart kid.
February 10, 2020
408
9
"Tough Love is in the Air"
Sumo becomes heartbroken after Amy turned him down the offer of being his valentine. Meanwhile, Malessica is sent secret admirer letters from Breehn.
February 10, 2020
409
10
"The New Neighbors"
Chad and Mary meet the new neighbors the Conners.
March 9, 2020
410
11
"Mommy Issues"
After Jeff had almost fallen down the stairs, Sue becomes over protective on him.
March 16, 2020
411
12
"Back Then"
Chad and Mary tell Clarence and his friends about how they met.
March 16, 2019
412
13
"Clarence and Jeff Go West"
Clarence and Jeff become transferred to West Aberdale and reunite with Sumo.
March 23, 2020
413