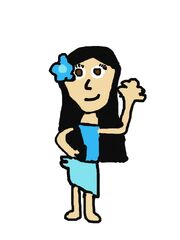 Noelani is Leilani's older sister who lives in lulu with her. She is born in 2003 and she has light skin, black hair and brown eyes. She Is Voiced by Alexa Gerasimovich.
Appearance
Edit
She has brown eyes, black hair and light skin. She has a blue sleeveless camisole, a light blue sarong like a hula skirt and a blue two tone flower in her hair.
Personality
Edit
Noelani is a nice and beautiful girl who loves to do the hula with her sister.
Episode Appearances
Edit
She is friends with saylor and adriana.
Her full name is noelani kahahane-lived.
She does the hula with her sister.
She is the second hawaiian character of the tv show.
Ad blocker interference detected!
Wikia is a free-to-use site that makes money from advertising. We have a modified experience for viewers using ad blockers

Wikia is not accessible if you've made further modifications. Remove the custom ad blocker rule(s) and the page will load as expected.