Cool cat is a minor character in Clarence, is a mysterious cat with a "cool" clothing.
Appearence
Edit
He is a gray cat with a blue suit and red pants (but it appears with various different outfits), it is also always wearing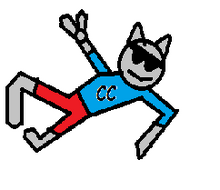 sunglasses.
Personality
Edit
Little is known about his personality, but he seems to be the main antagonist in Five Nights at Rough riders elementary A (troll game).
Appearances
Edit
Five Nights at Rough Riders Elementary A
Ad blocker interference detected!
Wikia is a free-to-use site that makes money from advertising. We have a modified experience for viewers using ad blockers

Wikia is not accessible if you've made further modifications. Remove the custom ad blocker rule(s) and the page will load as expected.