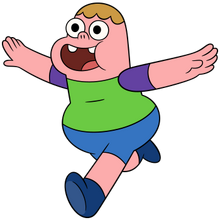 Clarence is the Main Character in the Clarence series, Clarence toons and The Clarence Show. He first Appeared In The "Pilot".
Appearnce
Edit
He is a Chubby Kid. He wears a T-Shirt with Dark Blue Sleeves. He has Orange Hair. Wears Blue pants And Dark Blue Shoes.
He Now Appears as a Bald Kid Wearing a Black hoodie. Almost Acting Like Saylor. He Has Rings around His Eyes And Seems to Dislike Belson. This is notable in the non-Fanon episode "Lil' Buddy". However, this wasn't Permanet
Appearnces
Edit
Clarence Has Appeared in All the Episodes Due to his Main Character Personaility.
In the Episode "Chimney". It Revealed That His Shoes were Fake.
Ad blocker interference detected!
Wikia is a free-to-use site that makes money from advertising. We have a modified experience for viewers using ad blockers

Wikia is not accessible if you've made further modifications. Remove the custom ad blocker rule(s) and the page will load as expected.